Download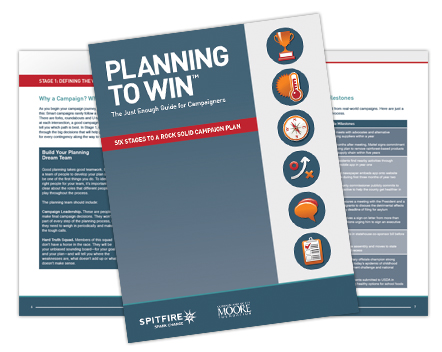 Planning To Win: Downloadable Tools
In addition to the online tool, Planning to Win has a variety of other downloadable guides and templates. Here you will find:
The Print Guide (PDF): Available for those that prefer to have a hard copy of the guide's core content for reference.

Print Guide Worksheet (PDF): This worksheet will to help you complete a short campaign outline on paper. Throughout the printed guide, we've indicated places where you can fill in the worksheet, as well as where additional resources are available online so you don't miss important examples or tips.
We have also included templates of materials created by the online tool. You can download and refer to these at any time, or give them a look before you start a campaign so you're familiar with what the end report might look like. They're crafted to be simple and straightforward, so you can edit and customize to fit your organization or coalition's brand. The three templates include:
Full Plan Template (Word): The full plan template outlines all of your strategic decisions, including the two special sections - opposition and coalitions.

Summary Template (Word): This can become a summary document to share with allies, board members or others who need a quick overview. This includes the core components of the plan, specifically all of Stages 1-3 followed by topline information from Stages 4-6.

Template Management Chart (XLS). This will help you keep track of tactics, assignments and deadlines as you implement your plan.
Complete a brief registration form to access the downloadable tools. Once registered, you'll also be able to craft a campaign or contribute content.